310 型频率响应分析仪是反馈稳定性分析、阻抗和频率响应测量不可或缺的工具。
它由集成的源/接收器单元、探头、USB 和电源线以及用户提供的基于 Windows 的计算机的软件组成。
310 型特点:
与 PC 隔离的 USB 端口操作
自动扫描幅度和相位测量
0.01Hz 至 30MHz 频率范围,具有快速线性或对数扫描
实时 Windows® 数据绘图和分析器控制软件
通过动态数据交换与其他 Windows® 应用程序进行实时数据交换
310 型频率响应分析仪
310 型的优点:
降低成本
优化控制回路
避免重新设计
缩短测试时间
提高产品质量
有助于确保产品稳定性
可以设计更可靠的磁体
优化性能

The AP300 from AP Instruments, Inc., has a 0.01 Hz to 30 MHz range. The AP300 is the best choice for all gain-phase measurements on power systems, including switching power supplies, digital power supplies, power factor correction circuits circuits, EMI filters and components.
A power supply should never be designed without full characterization of the control loop. Many major companies recognize this as a standard and require it from their vendors. The AP300 Analyzer is an essential development tool to ensure stability and design integrity.
The Frequency Response Analyzer is a sophisticated instrument that injects a test signal and measures the response of a system to that frequency on two return signals. It makes swept frequency response measurements that gives magnitude and phase data plotted verses frequency. The frequency sweeps can be either logarithmic (for Bode type plots) or linear. A rugged and easy-to-use Windows interface allows the plotting of relative or absolute signal amplitudes. The analyzer uses the latest in synthesizer and digital signal processing technology that provides an affordable, high-performance, high-productivity measurement instrument.
Features

0.01 Hz

30 MHz

1000 V with differential probes

1 Hz to 1 kHz Selectable

Sweep by sweep

Automatic via USB 2.0

20 V p-p, with a 2 ohm source

Impedance Measurement Setting

Measure capacitors down to 2 pF and 1 mOhm, inductors to 2 nH.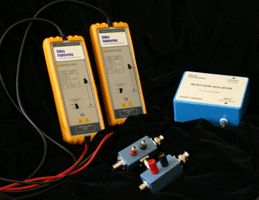 A special new injection isolator, designed to work with the AP300, provides 0.1 Hz to 30 MHz operation with a single, transformer-isolated package. This universal unit lets you measure complete sweeps without changing isolators.

Optional differential probes provide 1000 VAC Class III common-mode and differential mode isolation for high voltage circuit interfaces.

Special test fixtures provide a wide range of component testing. Two impedance test fixtures allow you to cover a wide range of components, from capacitors as small as 2 pF with an ESR as low as 1 mOhm, to inductors as small as 2 nH.

A new version of POWER 4-5-6, the industry's most comprehensive power supply design software, now links with the AP300. This allows you to overlay measurements on top of predictions to improve your modeling and increase your confidence in design.


Accessories